Canaan Dog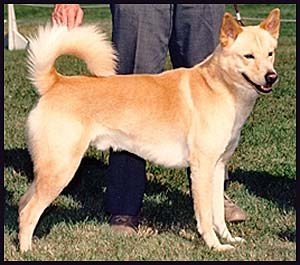 Dog Breed Group

Herding Dogs

Origin of Breed

Israel

Life Expectancy

10 - 12 years

Color

Sandy to reddish brown, white or black; harlequin.

Coat

Medium to long, straight and harsh; close lying, undercoat visible in winter.

Exercise Needs

Needs regular vigorous daily exercise on a leash.

Temperament

Intelligent, resourceful

Good with Children

Good with children and other pets.

Grooming Needs

Regular, but minimal bathing, brushing and combing. Keep nails trimmed, ears cleaned and whiskers trimmed.

Average Size - Male (in)

19 - 24

Average Size - Female (in)

19 - 24

Average Weight - Male (lbs)

35 - 55

Average Weight - Female (lbs)

35 - 55

Health Issues

Healthy natural breed.v

Living Conditions

City or country; house, apartment or condo.
Breed Description
The Canaan Dog is a medium-size, robustly made, spitz-type dog. He he has been indigenous to the region encompassed by modern Israel for centuries. The Canaan Dog is reserved with strangers but makes a good companion dog that is loyal and affectionate to his family. Soft and eager to please, he is also needs to know the rules of the house or he can become manipulative. He has been used as a guide dog for the blind and as a search and rescue dog.
Breed Infobits
He is a distinct breed which has survived in the desert since pre-biblical times.
Used to guard and protect livestock, he was also a messenger dog in the Israeli army.
Disclaimer: Pets.ca cannot be responsible for the accuracy of the above presented information. Please double check all information prior to making any decisions about purchasing this or any breed. If you think we have made an error with some of the information presented here, please e-mail us at breedprofiles@pets.ca.