Beauceron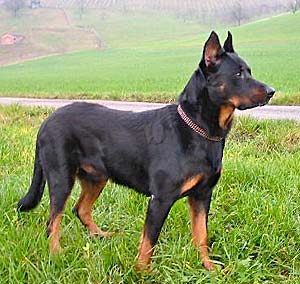 Dog Breed Group

Herding Dogs

Origin of Breed

France, sheepdog.

Life Expectancy

11- 13 years

Color

Black and tan, or a black and tan merle.

Coat

Rough, short and tick, with a dense undercoat and slight fringe on thighs and under tail.

Exercise Needs

Needs regular daily exercise which should include long walks and free run off the leash. Enjoys stimulating activity such as an

Temperament

The Beauceron is loyal, protective and patient.

Good with Children

Should be brought up around children. May be territorial, with other pets.

Grooming Needs

Minimum grooming is needed. Weekly bushing of his short coat will suffice. Extra attention is needed during shedding.

Average Size - Male (in)

25 - 28

Average Size - Female (in)

25 - 28

Average Weight - Male (lbs)

66 - 85

Average Weight - Female (lbs)

66 - 85

Health Issues

Hip and elbow dysplasia, bloat.v

Living Conditions

Best suited for a ranch, country estate or suburban home with a fenced yard.
Breed Description
A French herding breed known for centuries in western Europe, his ancestry may be part of the Doberman. He is used as a herder and guard dog. He is distinguished by his long tail and double dewclaws. Considered the world's most versatile working dog. Bred in the 1500's to track bears, boars and stag he was later used as a shepherd dog in guarding flocks.
Breed Infobits
The Beauceron has the confidence to be used as a guard dog and as a police dog.
Disclaimer: Pets.ca cannot be responsible for the accuracy of the above presented information. Please double check all information prior to making any decisions about purchasing this or any breed. If you think we have made an error with some of the information presented here, please e-mail us at breedprofiles@pets.ca.