Bearded Collie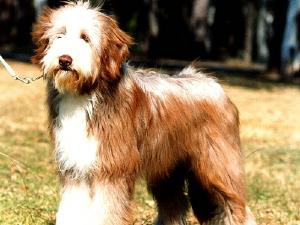 Dog Breed Group

Herding Dogs

Origin of Breed

Scotland, working companion.

Life Expectancy

15 - 16 Years

Color

Slate gray, reddish fawn, black, blue, all shades of gray, brown or sandy with or without white markings.

Coat

Flat, harsh and shaggy; can be slightly wavy but not curly; soft, furry, close undercoat.

Exercise Needs

Needs plenty of daily exercise and the opportunity to run free.

Temperament

The Bearded Collie is friendly and active. He is stable and self-confident, showing no signs of shyness or aggression.

Good with Children

Yes, outstanding family companion.

Grooming Needs

Daily brushing of his long shaggy coat. Mist coat lightly with water before you begin. May be professionally clipped every two m

Average Size - Male (in)

21 - 22

Average Size - Female (in)

20 - 21

Average Weight - Male (lbs)

40 - 60

Average Weight - Female (lbs)

40 - 60

Health Issues

Hip dysplasiav

Living Conditions

A home with a fenced yard is essential.
Breed Description
The Bearded Collie is a hardy active dog, with an aura of strength and agility characteristic of a real working dog. He has a high level of intelligence and resourcefulness and owners must keep him busy or he will invent things to keep himself occupied. It is believed that the Bearded Collie was developed from the Polski Owczarek Nizinny dog from Poland. The Polish dogs were mixed with Highland Collies which became known as the Beard Collie. Used as a working companion he would drive cattle and sheep to market.
Breed Infobits
The Bearded Collie can make an excellent watch-dog, as it has a powerful bark to deter would-be intruders.
Disclaimer: Pets.ca cannot be responsible for the accuracy of the above presented information. Please double check all information prior to making any decisions about purchasing this or any breed. If you think we have made an error with some of the information presented here, please e-mail us at breedprofiles@pets.ca.