Australian Kelpie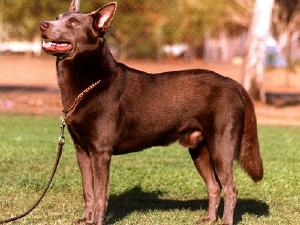 Dog Breed Group

Herding Dogs

Origin of Breed

Australia, shepherd dog.

Life Expectancy

10 - 14 Years

Color

Black, black and chestnut, red, red and chestnut, tan, dark chestnut or bluish-gray.

Coat

A close outer coat and short, dense undercoat.

Exercise Needs

Daily daily exercise is essential as he is a working breed and needs to have a job to do. Free run in an open space would be enj

Temperament

The Kelpie is extremely alert, eager and highly intelligent, with a mild, tractable disposition, marked loyalty and devotion to

Good with Children

Good with children, if raised with them. Will herd other pets.

Grooming Needs

Minimal grooming is required. Brush his short coat or massage him with a towel. Bathe only when necessary.

Average Size - Male (in)

17 - 20

Average Size - Female (in)

17 - 20

Average Weight - Male (lbs)

25 - 45

Average Weight - Female (lbs)

25 - 45

Health Issues

Genetic bone disorder, hip dysplasia.v

Living Conditions

Not suited for city living as he needs plenty of room and activity to keep him busy.
Breed Description
The Australian Kelpie originated around 1970 and played a major role in the development of the sheep and wool industry in Australia. Descended from the British and Scottish "working Collies" (an origin shared with the Border and Scotch Collies and the English Shepherd), the Kelpie was developed to handle the harsh, hot landscape, extensive acreage and unruly Merino sheep on Australian stations. The Kelpie is a gathering style dog, using eye, bark and bite (grip) to move stock, as conditions warrant. In the Australian bush, Kelpies often worked unsupervised, relying on their own wits to find and gather livestock. Kelpies are keen and active dogs, always ready to work. The Australian Kelpie is primarily imported and bred by ranchers and farmers for use as a working stock dog. Australian Kelpies in the United States are used on all types of livestock, on large and small operations. They are also entered in various herding trials, as well as participating in obedience and agility.
Breed Infobits
Although they can be very independent, the Australian Kelpie, like most other dogs, thrives on its owner's attention.
The Australian Kelpie is an intelligent dog and if it is not being worked, should be provided with lots of interesting things to do.
Disclaimer: Pets.ca cannot be responsible for the accuracy of the above presented information. Please double check all information prior to making any decisions about purchasing this or any breed. If you think we have made an error with some of the information presented here, please e-mail us at breedprofiles@pets.ca.