Black Cats – Pet tip 170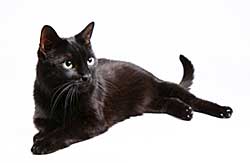 You are walking down the street and a black cat crosses your path. What do you do? Whether you dismiss it or not, many people think of it as some kind of a bad omen. Black cats and bad luck is a superstition that has lived on even in modern society. Past events, and present misconceptions of these cats keep this unfortunate stereotype alive.
Black is a colour that often brings an emotional response. What do you think of when you imagine this colour? Night, darkness, boring, no colour, dark, evil, scary are all common (and generally negative) words to describe black. This negative connotation of the colour black also applies to black cats. The portrait of the black cat as an omen of bad luck began with accusations of witchcraft and witch-hunts many years ago. It was believed that black cats had magical powers that allowed them to transform themselves into witches. Thus, if a person were to see a black cat they would fear something bad was going to befall them. This type of thinking though happened hundreds of years ago, why is this belief still widespread?
This fear of black cats has carried on throughout all these years because humans continue to perpetuate the stereotype. We as a society have continued to use the black cat as a symbol of black magic, bad luck, and fear. There are many examples, but we will touch on a few of them to better your understanding of what must be done to change the public's view of black cats. Every year there is one holiday where we pass on the superstition about black cats to our offspring and this is Halloween. In present times this holiday is meant to be fun, and meant to give kids a chance to go door to door collecting free, yummy, sugary candy. Think for a moment about your Halloween decorations. Surely, many of you have black cats with their backs arched, hissing, and showing their teeth. Perhaps this cat is next to a witch, or maybe a full moon. Either way, in Halloween decorations, the black cat is always portrayed as a frightful beast. Secondly, myths and stories passed down generation-to-generation fuel the fire regarding black cats and their lack of luck. People tell stories about how they see a black cat one day and then they have an unfortunate event the next day. This is not to say the black cat was the cause, but since the superstition is so popular, people think back and try to relate the two events. Moreover, television shows and movies with supernatural content continually support the superstition. One example is the television show "Sabrina the Teenage Witch." Sabrina has a talking black cat named "Salem" that is a slick talker and always seems to cause unfortunate events to occur. It is therefore our own fault that this superstition has perpetuated for hundreds of years. It is time that we leave behind this habit of associating black cats with bad luck. It does not do us any good, and it is certainly not beneficial for black cats.
Even if you do not consciously think bad thoughts upon seeing a black cat, it leads to a general weariness or unconscious dislike for them. How else can we explain why the number of black cats adopted in animal shelters across North America is significantly lower than other coloured cats? The truly ironic part is that the only bad luck is for the black cat itself that has to live its life based on the label we have given it. This is why they often remain unnoticed and not adopted. The sad part is that potential black cat owners may be missing out. Colour is no indication of how great a pet cat can be. Oftentimes black cats are the ones with the most wonderful personalities and are extremely friendly. It's time to break the stereotype.
By Laura Platt – Pets.ca writer